Spray Foam Insulation for Homeowners &Home Remodeling
JHMorrow Insulation helps you conserve energy today!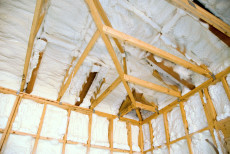 By designing and building a highly energy-efficient home, you reduce your energy demands for heating and cooling. This lowering your dependency on utility companies for the life of your home. Saving energy also means saving your money! JHMorrow Insulation provides the most energy–efficient, environmentally friendly, closed cell and open cell spray-in-place polyurethane insulation systems available. Our product is manufactured and installed on site, and is formulated from renewable agricultural resources. It is odorless and completely non-toxic after installation. Spray polyurethane foam stops airflow into and out of your home, reduces noise and blocks other airborne pollutants from entering for a much more comfortable and healthier environment.